InCharacter Costumes Baby's Lil' Monkey Costume, Brown/Tan, 6-12 Months
So, you want your baby to have a baby monkey Halloween costume?  Well, there are plenty of options, and I've featured the best below.  You'll find monkey Halloween costumes for infants, Curious George costumes, baby sock monkey costumes,  a monkey with a banana on his head, and even a barrel of monkeys costume.  So many to choose from!
There is even a monkey costume for babies with sensory issues.  This costume is extra comfortable because it includes comfortable brown pants, and a hoodie that looks like a monkey head.  There are even bananas coming out of an imaginary pocket so that people know your baby is a banana.  Halloween costumes don't have to be uncomfortable, and if you need more comfortable halloween costume options, you can see more of them here on amazon. These can even be worn after Halloween!
Back to monkeys, monkeys have been extremely popular in the last few years with nursery decor, baby clothes, and books.   Kids and cartoon monkeys seem kind of similar, and I'm saying this as a mom of two rambunctious boys.  Monkey costumes just seem to fit the personalities of many babies and small kids.
Top Picks For Baby Monkey Halloween Costume For Infants
(Some in toddler sizes)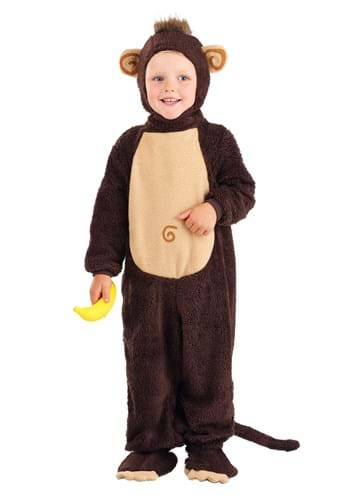 INFANT MONKEY COSTUME  ***EXCLUSIVELY ON: 
InCharacter Infant Monkey Costume, Brown/Tan, 6-12 Months
Mischievous Monkey Costume – Infant Small
Charades Costume – Plush Monkey-6-18 months
Mischievous Monkey Infant/Toddler Costume(12-18 Months-As Shown)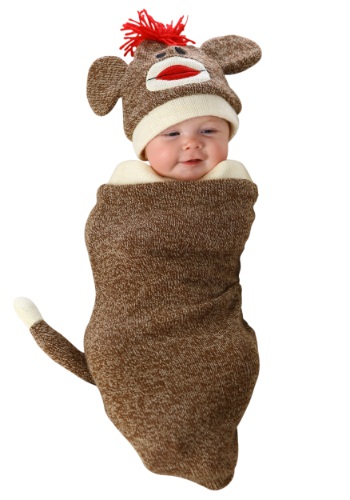 SOCK MONKEY NEWBORN BUNTING

Baby Curious George Costumes For Infants
Curious George was a favorite of mine from childhood and my boys both love him as well.  It's funny, but both of my boys remind me of little Curious George and how he always got into trouble even when he was trying to do the right thing.  I think a lot of kids can relate to him and as parents we can see similarities in our children.  An endearing character, adorable costume.
Curious George Monkey Costume, 6-12 Months
Extra Comfortable Baby Monkey Costume For Babies With Sensory Issues
Whether your baby has sensory issues or not, this monkey costume could make a great halloween costume.  This is made like normal clothes.  Soft, brown pants, and a soft brown hoodie make this costume a lot more comfortable for your baby than a normal costume.  There are more options if you click on the image.  Even the thumbnails that look like blocks of color have costumes you can view if you just click on the thumbnail.
Carters Baby Halloween Costume Many Styles (6-9m, Little Monkey)
Sock Monkey Costume For Babies
What isn't cute about a sock monkey?  This costume is for older babies, 12-18 months old.  It is a comfortable and very  affordable.  The hat can even be worn after Halloween when the weather is cool.
Sock Monkey costume, 12-18 months
Princess Paradise Baby's Marv The Monkey Deluxe Costume Swaddle, As Shown, 0/3M
Barrel of Monkeys Halloween Costume For Babies
Barrel of monkeys…need I say more?  Remember the game?  So cute! And what's more fun than a barrel of monkeys, especially baby monkeys.
Barrel of Monkeys Game Infant Baby Costume