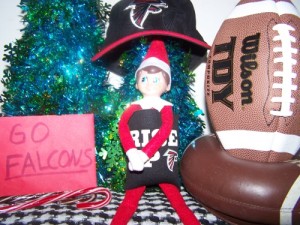 Our Elf On The Shelf, Kiddle, is a die hard Falcons fan.  It turns out that he didn't tie up the Grinch about Christmas, he just found out that the Grinch was a closet Green Bay Fan and that doesn't fly in a Falcons house.
Kiddle decided to wear our Falcons koozie we got at the game, gather up a few footballs, make a "Go Falcons" sign, and sit beneath a Falcons hat since it was a little too big.  He also decided to put the Grinch on display and make sure we knew he was cheering for the other team.  Kiddle also found out that the Grinch was planning on kidnapping Matt Ryan and that's why the Grinch has been tied up with Christmas lights for two days.
I admire Kiddle's love for his team, but I am really worried about him once the Grinch finally gets loose.  Maybe the Grinch won't do him too bad.
In any case, Go Falcons!!!
Share and Enjoy