Daisy Corsets Women's Top Drawer Premium Sequin Witch Corset Costume, Black, 5X
Are you looking for a sexy plus sized witch Halloween costume? Do you have a Halloween party to go where you want to turn heads? Are you having trouble finding a costume in local Halloween stores to fit your curvy plus size body? If you want to dress up as a sexy witch, look no further for the best sexy witch costumes available for plus size women or men (who am I to judge?).
As a plus sized woman I know what it's like to try and find a Halloween costume that fits the right way and looks great on me. Most stores don't carry plus sizes, especially in sexy costumes, but don't we deserve to feel and look sexy too?
If you're like me, a plus sized woman, then Halloween can be a challenging time. Most of our local stores are grossly lacking costume choices for plus sized women. I find the occasional plus sized costume, but I would love to have more choices. Why does a plus size woman have to settle anyway? Well, you don't because you have found the right place if you're want to be a sexy witch for Halloween.
Here I've found the best plus size sexy witch costumes so that you can find your dream Halloween costume. There are some super short costumes,  some with deep splits that show just the right amount of leg, and of course there are some that show just the right amount of boobage.   When you go to that Halloween party, you'll be the sexiest witch there, just don't forget to strut your stuff. You'll also find some great witch costume accessories such as shoes, hats, and stockings to make the costume fit your tastes and personality.
Best Sexy Plus Sized Witch Costume
The best sexy plus sized witch costume is one I put together from a site dedicated to plus size women, Hips and Curves.  Hips and Curves is awesome for Lingerie, Cosplay, Halloween, and funky every day pieces for plus size women.  They understand that women have curves and some of us have more curves than others. They really can help you feel your most beautiful.  You can put together the most sexy costume using a plus size corset and petticoat paired with a cape, gloves, thigh highs,  and wide calf witch boots. Just pair with your favorite witch hat. There are so many ways to personalize a witch costume  so that you feel and look your best!   If you'd rather buy a costume that's already put together there are other options below also!
Angelina Leather Steel Boned Corset 30, Black

Aria Satin Corset Corset 1X, Black

Ruffled Two Layer Petticoat

Stretch Velvet Long Cape with Wide Ribbon

Raw Edge Striped Thigh High Stockings

Long Stretch Lace Fingerless Gloves

Choose Your Favorite Sexy Plus Size Witch Costumes
These are some beautiful and sexy plus size witch costumes from Halloween Costumes .com.  These are well made and reasonablyy priced!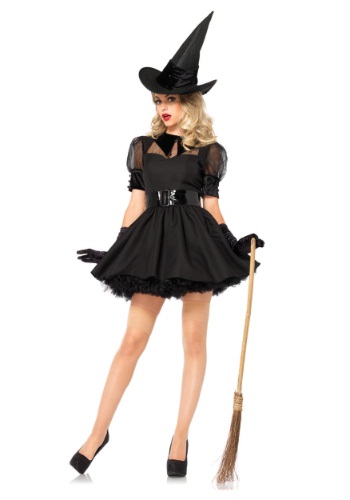 Womens Plus Size Bewitching Beauty Costume

Plus Size Wicked Witch of the West Costume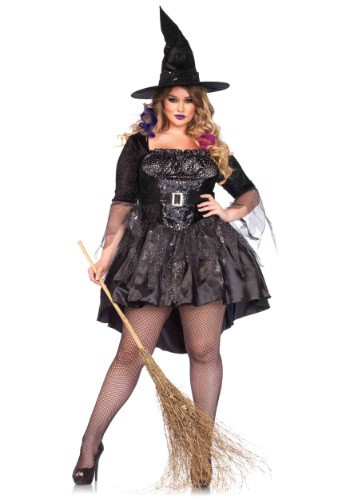 Black Magic Mistress Costume

Sexy Witch Costumes With A Split – Plus Size
Witch costumes with a split are classic and sexy.  They're a great way to show off your sexy legs!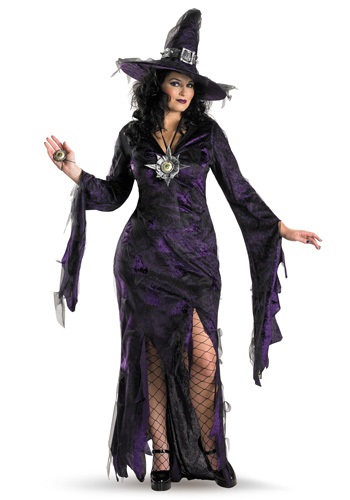 Plus Size Sorceress Costume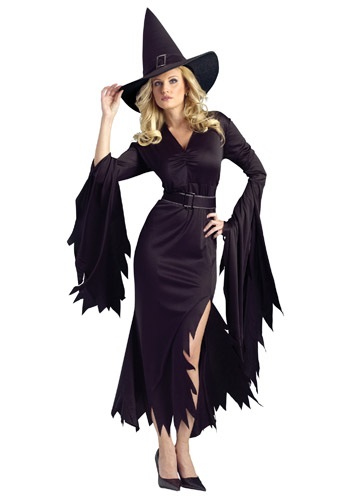 Gothic Witch Costume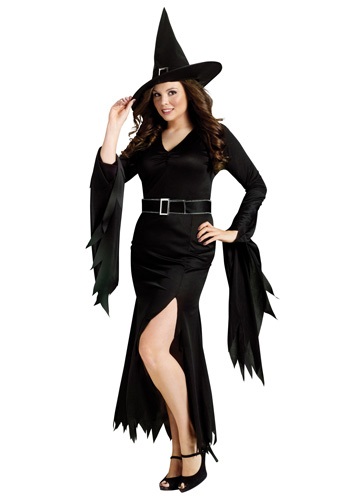 Plus Gothic Witch Costume

Women's Plus Size Sorcery & Seduction Costume

&
More Sexy Plus Sized Witch Costumes
These plus size witch costumes are from Amazon.  They're a variety of colors and styles, but they're all sexy.  These come in a variety of sizes and price ranges to suit all budgets.  Any of these costumes will make you stand out at your Halloween party, fun night at the club, or for trick or treating.
Disguise Women's My Brilliantly Bewitched Women Plus Size Costume, Black, XX-Large
Leg Avenue Women's Plus-Size 2 Piece Black Magic Mistress Witch Costume, Black, 1X
Leg Avenue Women's Plus-Size Bewitching Witch Costume, Black, 3X
Plus Size Silver Sparkle Witch Costume, Plus Size Sexy Silver Sparkle Witch Costume
Daisy Corsets Women's 5 Piece Sexy Wicked Witch Costume, Black, 2X
JTENGYAO Women's Witch Plus Size Costume Purple Swallowtail Witch Halloween Costume With Hat
Sexy Plus Size Witch Costume by Roma
Daisy Corsets Women's Plus-Size Top Drawer 4 Piece Sexy Witch Corset Costume, Black, 3X
Delicate Illusions Plus Size Wicked Widow Witch Womens Halloween Costume 5X (22-24) Black/Burgundy
Create Your Own Sexy Plus Size Witch Costume
If you didn't find what you were looking for above, how about consider piecing together a sexy witch costume.  Pair a plus size corset with a black tutu and you have the base for a sexy witch costume.  Add your favorite witch hat (more below), choose some shoes, and pair with stockings or leggings.  This makes a beautiful and very sexy witch costume.
Steampunk Retro Victorian Punk Cincher Lace up Long Ruffle Pencil Skirt
Kranchungel Women's Floral Lace Overlay Trim Satin Overbust Corset Top Plus Size 6X-Large Green
Womens Plus Size Ballet Tutu Waist 28-56 Length 16-17 by Southern Wrag Company (Black)
Kimring Women's Vintage Saloon Girl Corset Dress Halloween Cancan Dancer Showgirl Moulin Rouge Costume Black XX-Large
Leg Avenue Women's Large Ruched Witch Hat, Black, One Size
Ellie Shoes Women's Witch Adult Boots 8 Black
Cool Witch Hats To Go With Your Costume
I love all of these hats but the first one is my favorite even though it's purple and purple is really not my favorite color.  I also love the witch hats with the spiders hanging down.  Love them!
Leg Avenue Women's Large Ruched Witch Hat, Black, One Size
elope Wicked Witch Deluxe Hat, Black, One Size
Smiffys Women's Black Deluxe Witch Hat
Rubie's Costume Co Wired Witchhat-Blk Velour Costume
Witch Hat Costume Accessory
Halloween Costume 14.5
Smiffy's Women's Witch Hat with Feathers and Netting, Purple, One Size, 34924
Smiffy's Women's Witch Hat, Net & Feathers, Red, One Size, 36720
Rubie's Costume Co Grn Witch with Feathr& Veil Costume