These strawberry grape grinches are a great kids Christmas Snack that's even healthy!  They'd be great to serve as a snack, at a party, or as part of a lunch.  Watch How The Grinch Stole Christmas while eating these would be fun too.
We saw this idea on Facebook originally, but made them slightly different.  We chose to not add the banana slice between the grape and strawberry because they turn quickly and my kids are weirded out by that.  They loved them this way and so did I.
All you'll need are:
Green Grapes
Strawberries
Mini Marshmallows
Toothpicks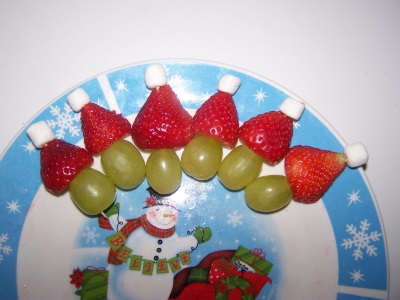 Just cut the green tops off of the strawberries and cut them in half.  Then you slide the toothpick through the strawberry and then add the grapes and mini marshmallows on each end.  I found it easier to do the strawberry first.  Regular toothpicks were perfect for this, but fancy toothpicks or larger picks can be used.
Such an easy and fun snack!
Share and Enjoy